LEGAL CHALLENGES OF CYBER SECURITY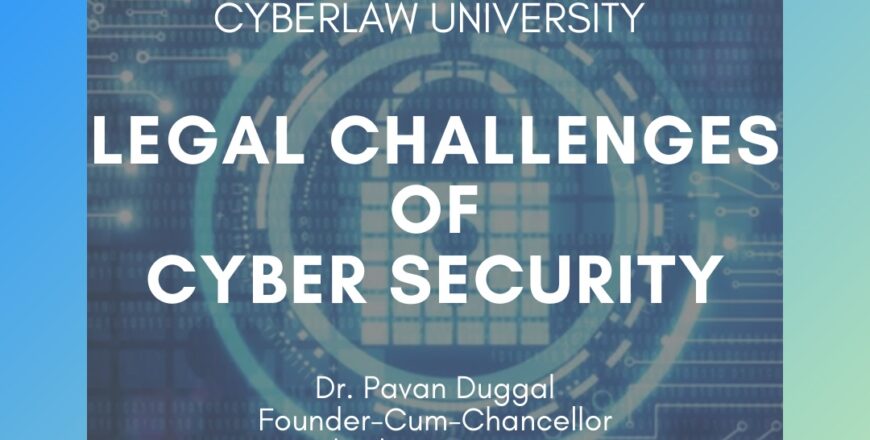 LEGAL CHALLENGES OF CYBER SECURITY
In this course students will get to have an overview of the importance and significance of cybersecurity law as an evolving legal discipline and will further be exposed to various emerging trends, developments that are likely to contribute to the further growth of cybersecurity law jurisprudence. Advent of new technologies and new phenomenon has ensured that new legal approaches are required. How these newly emerging thrust areas are impacting the further growth and evolution of cybersecurity law jurisprudence is the main subject of the present course.
Topics covered:
Introduction
Increasing Cybersecurity Breaches
Equifax Cybersecurity Breach
Uber Cybersecurity Breach
Attribution
Cyber Attribution Techniques & Challenges
Current Issues Before Cyber Attribution
Encryption as Challenge
Regulation of Encryption by Cybersecurity Law
Jurisdictional Challenges
Electronic Evidence Challenge
Protecting Critical Information Infrastructure
New Approaches for Securing Critical Information Infrastructure
Darknet & Cybersecurity Breaches
Lack of International Law on Cybersecurity
MLATs not Successful
Bilateral Cooperation on Cybersecurity
International Cooperation on Cybersecurity
Cybersecurity Law in Different Countries
National Cybersecurity Policies & Strategies
Prevailing Position of Cybersecurity Breaches
Grave Figures About Cybersecurity Breaches
Cybersecurity Risks Ahead
Future Growth of Cybersecurity Law
Cybersecurity Challenges Galore
Related Courses
Conclusion
Be the first to add a review.
Please,
login
to leave a review