CYBERCRIME & ELECTRONIC EVIDENCE – GLOBAL AND INDIAN PERSPECTIVES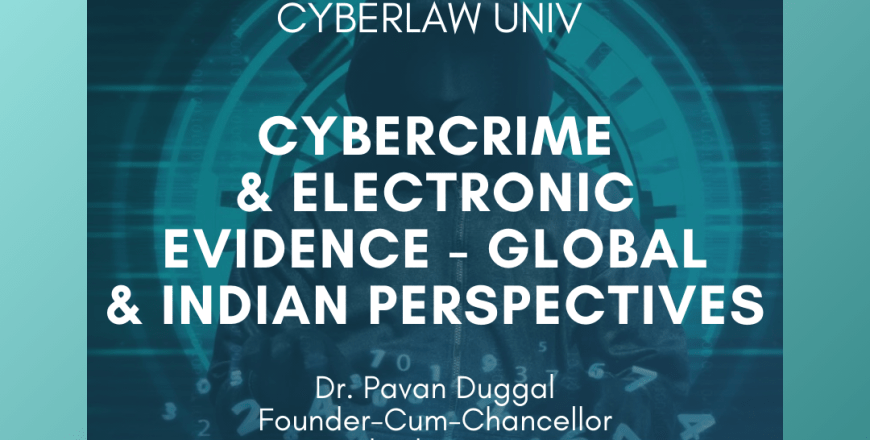 CYBERCRIME & ELECTRONIC EVIDENCE – GLOBAL AND INDIAN PERSPECTIVES
Cybercrime has been an integral part of the internet ecosystem from the very beginning. However, with the coming of Covid-19, the Golden Age of Cybercrime has evolved. Increasing cybercrimes of different varieties and characteristics are evolving with each passing day and are targeting innocent lay internet users.
Regulating cybercrime is a huge challenge for governments across the world. Electronic evidence plays a very important role in the detection, investigation and prosecution of cybercrimes. This course would enable the participants to learn more about evolving cybercrime globally and the electronic evidence issues connected with the regulation of cybercrimes.
While cybercrime is a global phenomenon, the access and collection of electronic evidence often face challenges due to the national geographical boundaries. This course will sensitize the participants about various kinds of cybercrimes, various global legal and policy issues that cybercrime brings forward and the issues pertaining to electronic evidence and thereafter the Course will further focus on cybercrimes and the electronic evidence ecosystem in the context of Indian digital ecosystem. The course would enable the participants to have a holistic understanding of how cybercrimes and electronic evidence are interconnected with each other and how legal and policy nuances pertaining to these two subjects evolve at the global and Indian level.
Be the first to add a review.
Please,
login
to leave a review