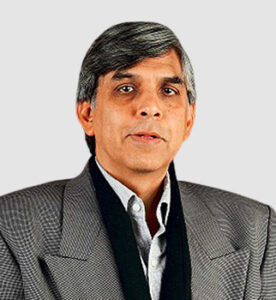 Prof. Dinesh Singh
Chancellor, K. R.Mangalam University & Former Vice Chancellor, University of Delhi
Prof. Dinesh Singh, Former Vice Chancellor, University of Delhi is a distinguished mathematician and educationist. He has studied at St. Stephen's College and holds a Ph.D. from the Imperial College of Science, Technology and Medicine, London, ranked amongst the top ten universities globally. He is a Distinguished Senior Fellow, Advanced Hackspace, Imperial College as also Adjunct Professor, University of Houston, Houston, U.S.A. He has been awarded the Padma Shri-one of the highest civilian awards of the Government of India-by the President of India in 2014. He has been conferred honorary doctorates-for his work as a mathematician and an educationist-by the University of Edinburgh; the National University of Ireland, Cork; the University of Houston, Houston, USA and the National Institute of Technology, Kurukshetra.
Prof. Singh who is internationally known for his out of the box thoughts and innovative ideas is closely involved in an honorary capacityin raising the academic profile of K.R. Mangalam University, Sohna Road, Gurugram to a global level by launching 'The Institute for Inventions, Innovations and Entrepreneurship (TIIIE)' at K.R. Mangalam University.
Under TIIIE, path breaking degree programmes shall offer new, exciting and globally relevant expertise and qualifications to the student. TIIIE plans to offer opportunities to make the student creative and practical at the same time with the ability to be successful in life either in a job or as an entrepreneur. The TIIIE shall create a culture of knowledge, entrepreneurship and management skills. It is offering students a work and learn environment where mentored groups shall have 'hands on' project based learning connected to the real world through practical high-end knowledge.