Webinar on "Ways For Generating Money Online And Its Legalities"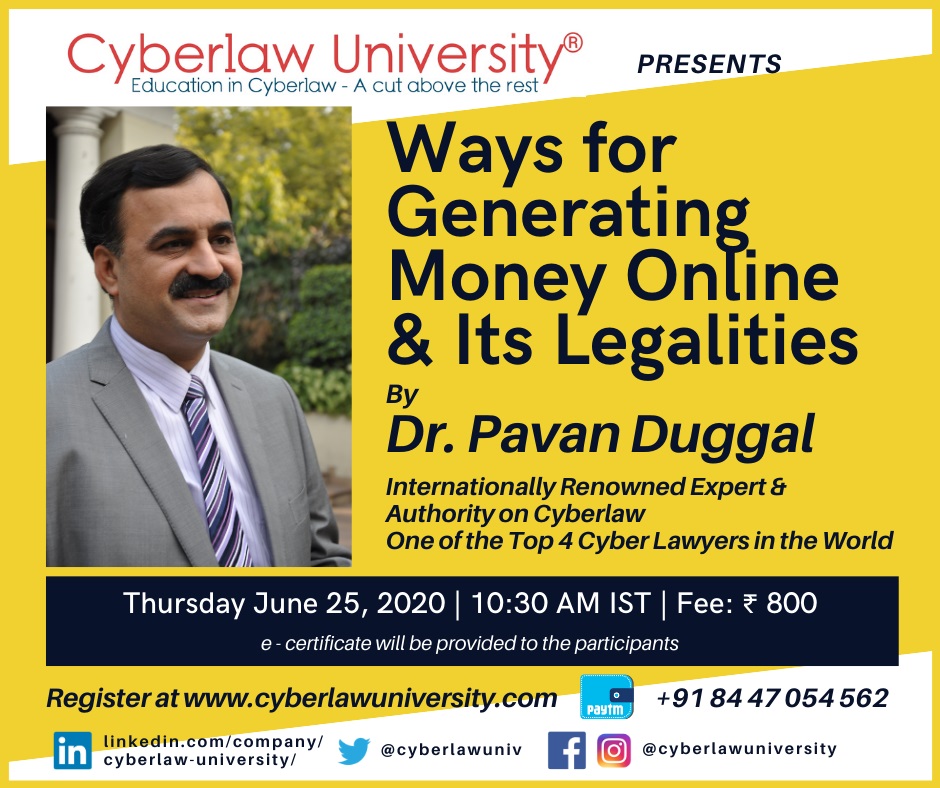 PRESENTS
WEBINAR ON "WAYS FOR GENERATING MONEY ONLINE AND ITS LEGALITIES"
*e-Certificate will be provided to the Participants of the Webinar
Welcome to the Webinar "Cyberlaw University Presents Ways For Generating Money Online And Its Legalities" on 25th June, 2020 at 10.30 am IST on Zoom.
Why Attend The Webinar?
We are going through Covid19 times. Everything is coming on to the electronic and online paradigm. As people are increasingly losing their jobs and as unemployment rates are soaring, more and more people are looking for online ecosystem for generating money;
Various options of generating money online have emerged prior to and during Covid19 period. However, most of the lay users are not able to understand legal pitfalls , while adopting various ways of generating money online;
Attending the Webinar will be exposing your mind to various significant ways of generating money online and connected legalities;
Attending the Webinar will also sensitize you about all the practical issues and challenges which need to be kept in mind, while engaging in different ways to generate money online;
Further, this Webinar will further sensitize you on what practical legal challenges that you are likely to face, once you are adopting various ways of generating money online and how to deal with the same;
By attending the Webinar, you will get holistic understanding of the legal landscape pertaining to ways of generating money online;
Further, by attending the Webinar, you will get holistic perspective of what legal precautions need to be undertaken, in order to be potentially safe from legal issues and challenges that the adoption of methods for generating money online, present;
Your mind would be exposed not just to newly emerging trends pertaining to generating money online but also to newly emerging legal strategies of how to be safe legally, while generating money online;
You will be awarded e-certificate for attending the present Webinar;
Attending the Webinar is going to open up your minds to the new possibilities of generating money online and the need for adopting due care and diligence to protect yourself and also your legal interests, while generating money online;
The Webinar will have Questions & Answers session where you can ask your queries and questions pertaining to the legalities connected with the issue of generating money online;
Further by attending the Webinar, you will also be sensitized about various other legal aspects concerning generating money online, which you can learn by knowing about various courses offered by Cyberlaw University;
The webinar will also help you to start thinking towards developing a roadmap for your own journey towards generating money online.
Conducted By:
The Webinar would be conducted by Dr. Pavan Duggal, Advocate, Supreme Court of India and Internationally Renowned Expert And Authority on Cyberlaw & One of the top four Cyber Lawyers of the World.
While a practicing Advocate, Supreme Court of India, Dr. Pavan Duggalhas made an immense impact with an international reputation as an Expert and Authority on Cyber Law, Cyber Security Law, Artificial Intelligence Law & E-commerce law.
Pavan Duggal, is the Founder & Chairman of International Commission on Cyber Security Law. He is also the President of Cyberlaws.Net and has been working in the pioneering area of Cyber Law, Cyber Security Law & Mobile Law.
Pavan is also heading the Artificial Intelligence Law Hub and Blockchain Law Epicentre. He is the Founder-cum-Honorary Chancellor of Cyberlaw University. He has been contributing to the cause of Cyberlaw education as a lifelong journey. His online Cyberlaw courses available at Cyberlaw University have been done by more than 22,000 students from 168 countries speaking 48 national languages.
Pavan Duggal's contribution to Cyberlaw globally has been remarkable and exemplary.
Pavan is the President of Cyberlaw Asia, Asia's pioneering organization committed to the passing of dynamic cyber laws in the Asian continent. Dr Duggal is also a member of the WIPOArbitration and Mediation Center Panel of Neutrals.
He has contributed extensively into the evolving Cyberlaw jurisprudence globally.
Dr. Duggal is a regular on the lecture circuit. He has spoken at over 2000 Conferences, Seminars and Workshops in the last seven years, and has lectured extensively in select Law Colleges. As a Writer, he has made his mark with 137 Books on various aspects of the law in the last 20 years. Out of his 137 Books, 34 awards have been conferred on 19 of his authored books in different categories including the following:-
Organizer
The Webinar is organized by Cyberlaw University, which is an online University dedicated towards promoting Cyberlaw education. Cyberlaw University is the world's only online education platform for promoting Cyberlaw education. It is offering 37 different courses on different issues of Cyberlaw, Cybercrime Law, Cybersecurity Law, Artificial Intelligence Law, Blockchain Law and Internet of Things Law.
Registration & Fee
Registration Fee can be paid through PayTM @ +918447054562