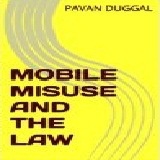 Today mobiles have become extremely popular and prevalent. However, the increased adoption and penetration of mobile phones has further lead to instances pertaining to misuse of mobiles. Mobiles are being used for a variety of criminal activities and purposes. As such, a lot of activities done using mobile phones and communication devices could have a direct impact upon the sovereignty and integrity of sovereign nations.
Consequently, the need has arisen for the governments of the world to address issues pertaining to misuse of mobiles.
This eBook "Mobile Misuse and The Law" seeks to examine the misuse of mobiles and further takes the case of the Indian jurisdiction as an illustrative example to demonstrate the steps taken by the Indian Government to prevent misuse of mobiles.
In India, the government has come up with various provisions under the Information Technology Act, 2000, which have a direct effect upon preventing the abuse and misuse of mobiles. This eBook examines the relevant provisions in this regard, which further can become a case study for nations who are trying to toy up with an idea of using legislation for the purposes of preventing misuse of mobiles.
More about the e-book is available at http://goo.gl/TUVaSq