LAW OF BUSINESS PROCCESSING OUTSOURCING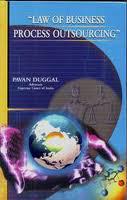 LAW OF BUSINESS PROCCESSING OUTSOURCING
This book presents a detailed treatise on the subject of Business Process Outsourcing Law in India.  This comprehensive book contains a detailed commentary on almost all major legal issues that impact outsourcing activities in India.
The publication also contains an informative and objective analysis of all important laws in India which impact the BPO sector.
This book features an in-depth discussion of various provisions of important foreign laws that need to be duly complied with by BPO service providers and sub-contractors, while providing outsourced services to foreign companies.
"Law of Business Process Outsourcing" will become a constant companion for companies, service providers, sub-contractors, CEOs, lawyers, Government departments, professionals and all others dealing with Business Process Outsourcing activities.
More about the book is available at http://buybooks.siliconindia.com/law-of-business-process-outsourcing-bid-884.html