CHILD PROTECTION IN MOBILE PARADIGM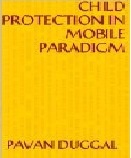 CHILD PROTECTION IN MOBILE PARADIGM
In the present day children are using mobile phones and communication devices. The new
generation is far more tech savvy than the older generation. However, the access to communication devices by children has not only empowered the children but has also made them more vulnerable.
More and more children are today being specifically targeted, using communication devices that are being used by such children. The use of mobile phones by children has a direct impact upon protection of children not only vis-à-vis their safety but also from exposure from potential pedophiles and cyber criminals. Further, mobile phones today immediately bring to the child's hands access to unlimited pornography using mobile Internet. Consequently, there are large number of legal, policy regulatory issues concerning child protection and mobile.
This eBook "Child Protection in Mobile Paradigm" seeks to examine the existing position on a global level, pertaining to the legal, policy and regulatory issues concerning child protection in the mobile ecosystem. The said eBook examines the phenomenon of various mobile crimes targeting children as also mobile bullying. Further, the said eBook also analyses various other criminal activities that are targeted on children using mobiles.