POSTGRADUATE CERTIFICATE COURSE ON CYBERLAW & CYBER SECURITY LAW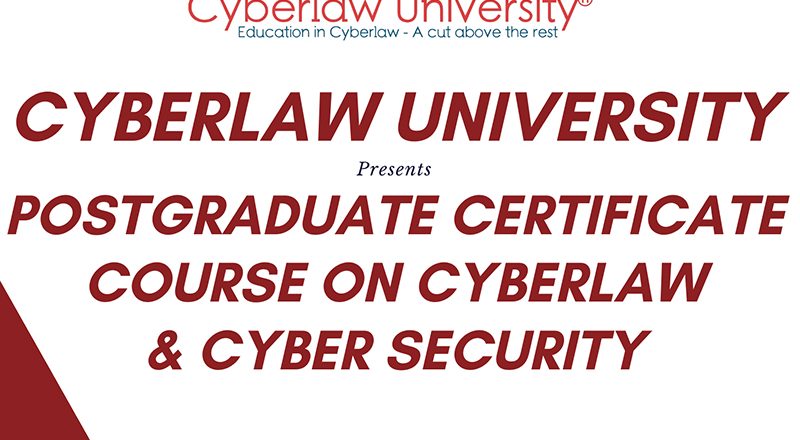 This Course will give the students ability to dive deep into the some emerging and important aspects on Cyberlaw impacting India as also cyber legal nuances of emerging trends and paradigms in cyberspace. This course will enable you to get more in-depth understanding and appreciation of legal nuances pertaining to emerging cyber paradigms in India. This course will further update you with the current levels of developments on Cyberlaw in India and what all is being done at the cutting-edge levels in Indian Cyberlaw.
WEEK 1 – EVOLVING CYBERLAW GLOBALLY AND IN INDIA
a) Cyberlaw – Evolving Legal Discipline
b) Concept, Definition And Features Of Cyberlaw
c) UNCITRAL Model Law On Electronic Commerce
d) Cyberlaw Tracker Of UNCTAD
e) Lack Of International Cyberlaw In Place
f) Different Countries Have Different Cyber Laws
g) Indian Cyberlaw, IT Act, 2000 – Brief History Of Passing Of The IT Act, 2000
h) Indian Cyberlaw Circumscribed By Objectives In Preamble Of Promoting Electronic Format
WEEK 2 – INCREASING CYBERCRIME DURING COVID19 AND NEW CRIMES NOT COVERED BY INDIAN CYBERLAW
a) Social Media Misuse In India And Legal Approaches
b) Section 66A IT Act Struck Down And Its Impact On Current Social Media Misuse
c) Important Cybercrime Cases Reported In India
d) Recent trends in Cyberlaw, Cybercrime & Cyber Security
e) Important Cyberlaw Cases In India
WEEK 3 – BLOCKCHAIN, BITCOINS AND LEGALITIES- GLOBAL AND IN INDIA
a) Blockchain Laws In Different Parts Of The World
b) RBI Notification And Supreme Court Judgement
c) Bitcoins In India – Legal Position
d) Legality Of Bitcoins In India – RBI Circular 2019 And Supreme Court Judgment
WEEK 4 – NEED FOR AI LEGAL REGULATION IN INDIA
a) Growth Of Artificial Intelligence Law Globally
b) Developments In India On Artificial Intelligence
c) Need For Artificial Intelligence Regulation In India
d) Development in India on Artificial Intelligence
e) Massive Growth On Artificial Intelligence Globally
WEEK 5 – ELECTRONIC COURTS AND LEGALITIES DURING COVID-19 VIDEO CONFERENCING AND LEGAL ISSUES
a) Dispensation of Justice & AI – Scope of AI
b) Q1. Is cognitive learning of AI in India successful in legal world?
c) Q2. Whether the artificial intelligence can replace the human hearts, sensitivity and feelings which are required at the time of deciding a case?
d) Q3. What are the three key areas in the judicial system where AI can be put in place?
e) Q4. What are the advancements required to be done in the information technology so that AI is applicable to the judicial system to a good extent?
f) Q5. AI is not human intelligence but is machine based intelligence. Is it right to say so?
g) Q6. Use of e-discovery by legal practitioners and judiciary in India or use of video conferencing app, which one is better or hassle free during the COVID times, keeping in mind the promotion of legal industry in India.
h) Q7. Can AI help in accessing the inflow of cases due to the implementation of new legislation which help judiciary to build and have an infrastructure to deal with introduction of every new legislation?
i) Q8. Introducing AI in judiciary, would it amount to creating a parallel judiciary?
j) Q9. How far have we moved in India in adopting AI?
k) Position of electronic courts and virtual courts in India
l) Contribution of Covid-19 in passing use of technology for dispensation of justice
m) Videoconferencing hearings in India post Covid-19 and concerned orders passed by Indian Supreme Court and various High Courts in India
n) Development of law on videoconferencing in India prior to March 2020 – judgment of Indian Supreme Court and various High Courts in India
o) Development of legal jurisprudence on videoconferencing by courts in India post March 2020
p) Increasing electronic evidence and appreciation of electronic evidence by courts
q) Moves towards adopting technology by courts in India
WEEK 6 – CYBER SECURITY REGULATION IN DIFFERENT COUNTRIES 
a) Cyber Security Regulation in Different Countries
b) Increasing Cyber Security Breaches
c) Cyber Security Coverage In Indian Cyberlaw
d) Cyber Security Provisions Under IT Act
WEEK 7 – ELECTRONIC EVIDENCE LAW- THE DEVELOPMENT OF LAW IMPACTING THE SAME
a) Arjun Panditrao Khotkar vs Kailash Kushanrao Gorantyal judgment
b) Electronic Evidence Law- The Development Of Law Impacting The Same
c) Crystallization Of Indian Legal Stand On Electronic Evidence
d) Supreme Court On Electronic Evidence And The Evolving Law So Far
e) Anvar PV Verus P K Basheer
WEEK 8 – CYBER SOVEREGINTY AND DATA LOCALIZATION – THE GROWTH OF LEGAL JURISPRUDENCE INTERNATIONALLY AND THE POSITION IN INDIA
a) Need For Strengthening Indian Cyber Sovereignty – Origin And Concept Of Cyber Sovereignty And The Need For Specific Provisions In Cyber Sovereignty In India
b) Data Localization Approaches In India – The Trends So Far
c) RBI Notification Dated April 2018
d) Srikrishna Report And Data Localization Requirements
e) Watered Down Data Localization In PDP Bill 2019
f) Lack Of Data Localization, Ban Of 59 Chinese Apps And Impact On India
g) Protecting Indian CII from attack
WEEK 9 – FAKE NEWS INFODEMIC AND LEGAL ISSUES
a) Covid19 as a Fake News Infodemic
b) Legal issues concerning Fake News
c) Legal Challenge concerning Fake News
d) Legal Responses to tackle with Fake News
e) Fake News, Cybercrimes & Cybersecurity
f) Fake News And Cyberlaw
g) Fake News And Privacy
WEEK 10 – WORK FROM HOME AND CYBER LEGAL ISSUES
a) Some Important International Best Practices concerning WFH
b) Cyberlegal issues concerning Work From Home during Covid-19
c) Advent and adoption of Work From Home during Covid-19
d) Challenges raised by Work From Home During Covid-19
WEEK 11 – A NEW WORLD ORDER EMERGING IN CYBERSPACE AND CONNECTED LEGALITES
a) New Developments impacting cyberspace in Covid-19 Times
b) Cyberlegal issues concerning internet during Covid-19
c) Coronavirus laws and impact on cyberspace issues
d) Contact Tracing apps COVID-19 and legalites
e) New emerging world order in cyberspace and legalities
f) Impact of emerging order in cyberworld and its potential impact on cyber liberties
WEEK 12 – EMERGING CYBERLAW, CYBERCRIME & CYBERSECURITY ISSUES
a) Emerging Cyberlaw, Cybercrime & Cybersecurity Issues
After successful purchase, this item would be added to your courses.You can access your courses in the following ways :
From the computer, you can access your courses after successful login
For other devices, you can access your library using this web app through browser of your device.
Be the first to add a review.
Please,
login
to leave a review