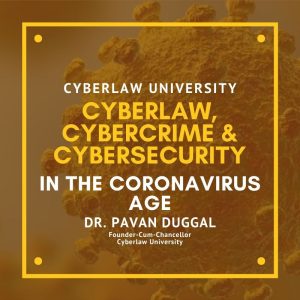 CYBERLAW, CYBERCRIME & CYBER SECURITY IN THE CORONAVIRUS AGE
In this course, the students will have broad overview of some of the key important Cyberlaw, Cybercrime & Cybersecurity aspects, issues and challenges that are beginning to crop up on the landscape given the advent and further constant spread of the coronavirus contamination.
With increasing reliance on the internet, every person needs to know about the cyberspace challenges and issues that are beginning to emerge in the coronavirus age. Knowing these cyber legal, cyber criminal and cyber security ramifications emerging in the coronavirus age would enable all stakeholders to be better well prepared to deal with these respective challenges and to avoid becoming victim of cybercrime and cyber security breaches.
Topics covered:
Section 1:Introduction
Section 2:Coronavirus Current Figures and Impact on Economic Activities
Section 3:Relationship with Cyberspace Activities
Section 4:Coronavirus as an Infodemic
Section 5:Massive Increase in Cybercrime and Cyber Security Breaches
Section 6:Growing Facts & Figures
Section 7:Warning of European Central Bank
Section 8:Cyberlaw Developments in South Africa
Section 9:Kenya Arrest Over Coronavirus Fake News
Section 10:Indian Arrest Over Coronavirus
Section 11:Arrests in Morocco, Hungary and Hong Kong
Section 12:Latest Cases on Cybercrime
Section 13:Increased Phishing Instances
Section 14:Important Cyber Security Breaches and their Characteristics
Section 15:Bruno University Hospital Case
Section 16:Cyber Attacks on US Health Department
Section 17:Cell Phone Surveillance Reported From Israel
Section 18:Phishing targeting Hospitals
Section 19:Coronavirus Mobile App
Section 20:National Cybersecurity Laws
Section 21:Increasing Fake News Related to Coronavirus & Its Regulation
Section 22:Situation Expected to Worsen
Section 23:Practical Tips to be Safe from Cybercrime and Cyber Security Breaches
Section 24:Projected Trends
Section 25:Working From home and connected Issues
Section 26:Conclusion
To Register
Keywords: #cyberlaw #cybercrime #cybersecurity #coronavirus #covid19 #pandemic #workfromhome #wfh #remoteworking #privacy #dataconfidentiality #dataprotection #dataprivacy #corporatedata #internationallaw